Tilt and Turn Hardware
Tilt and turn is the main window style in Germany, where they actually turn before they tilt. Here in the UK we've reversed that so that the first open handle position (90°) from Closed is Tilt. This is the main ventilation position. The user then moves through to the Turn position with the handle pointing upwards. This is designed as the cleaning position, where the outside of the window can be cleaned from inside the building without the need to lean out.
In normal use, our key-lockable TBT handles will allow free movement to the Tilt position, but must be unlocked to allow the window to be turned open. This is primarily a safety feature to prevent falls, but it also adds a layer of security to thwart tampering from outside if the window is in Tilt mode.
We offer two brands of tilt and turn hardware within the Q-secure guarantee. Both are available with surface fit and concealed hinges and both are from top quality manufacturers; AGB and Roto.
The Q-secure guarantee will pay out up to £8000 (Q-secure PREMIUM) if a break in is achieved due to a failure of our approved hardware.
Q-secure tilt and turn windows are ideal for those wishing to replace existing tilt and turns (many of which are Turn 1st from the 80s), or even to fit in replacement or new build installations in place of outward opening windows.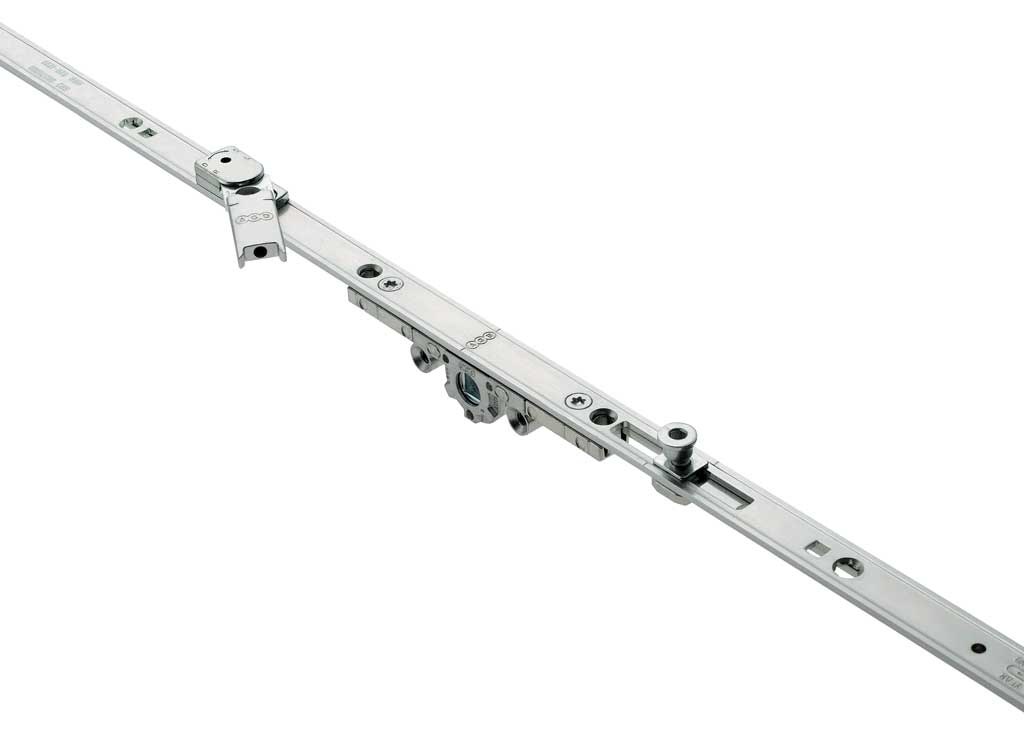 AGB ArTech Tilt & Turn Hardware
This innovative system delivers incredible security performance, whilst being very smooth to operate. The AGB ArTech system is expertly constructed with multiple single piece mushroom headed locking points around the window ensuring that the system easily exceeds the requirements of the PAS24 security standard.
ArTech withstands even the most extreme weather conditions, as it is coated with AGB's Activeage 3 layer surface treatment which performs to over 4 times the industry norm in testing.
Window manufacturers can set the tilt angle in the factory. ArTech is available in Standard and Jigless surface hinge options, and also in the Plana concealed hinge version. All are built to last, with Jigless and Plana coping with sash weights up to 130kg and heights up to 2510mm.
The system is covered by our comprehensive Q-secure guarantee at PREMIUM level.
Roto NT & NT Designo II Tilt & Turn Hardware
Roto tilt and turn hardware is made for longevity and durability. The hardware is protected from the ravages of the UK weather, as it is coated with the Roto-Sil Nano surface seal to provide high corrosion resistance.
NT is available in Standard Roto K and Jigless Roto A surface hinge options, and also in the NT Designo II concealed hinge variant. With its mushroom headed locking points in place, Roto tilt and turn hardware meets and consequently exceeds the high security requirements of PAS24.
This hardware is covered by our comprehensive Q-secure guarantee at Standard level.
This is part of our MULTI-BRAND guarantee, where we offer our warranty across a variety of different brands. This is what makes us unique here at VBH, where we don't tie you down to a single hardware manufacturer.
greenteQ Alpha TBT Tilt & Turn Handle
As part of our superb hardware range, greenteQ, we offer the classic Alpha TBT Tilt and Turn handle. This has a contemporary look, to complement the modern feel of tilt and turn windows. Alpha is available in eight attractive finishes for your customers to choose from.
The Alpha TBT tilt and turn handle has standard 43mm fixing centres. This makes the handle suitable for all eurogroove fit tilt and turn hardware systems, including the AGB and Roto ranges that are also covered by Q-secure.
The lockable Alpha TBT handle has four settings. These are unlocked, tilt safe, locked and turn first locked. As for our guarantee, this qualities for the Q-secure PREMIUM level or Standard level depending on whether it's used with AGB ArTech or Roto NT security level tilt & turn systems.
Tilt and Turn Hardware Guarantee
Here at VBH, we offer a wide range of fantastic hardware from all the best brands. If you are a fabricator looking to join the Q-secure Network as an Approved Manufacturer, get in touch
If you are an installer looking to benefit from Q-secure, find a Q-secure supplier using our Find a Manufacturer tool today.
Our multi-brand Q-secure guarantee is an exceptional assurance to keep homeowners protected. We have the utmost confidence in our products, which is why we can offer this unrivalled warranty. All our hardware is exhaustively tested to reach or exceed the high standards of BSI.
Get in touch with us today to find out more. You can contact us today by filling out our enquiry form or give our office a call on 01634 263 300. We look forward to hearing from you.
Categories: Trade