Patio Door Handles
We provide hardware systems for many different door styles including residential single and double doors, inline sliding patio doors, bi-folding doors, lift/slide doors, stable doors and Invisifold Slide & Fold doors. Many of these are included within our Q-secure security guarantee for homeowners.
Of course a door can be super secure, but if you can't operate it easily, it's only performing half of its function. This is why we have developed such a comprehensive range of handles for all types of door.
All greenteQ furniture is designed with the same style traits and many of the colours are constant across the range. We call this the greenteQ Suite. The Suite includes furniture for residential doors, patio doors and windows. This means that installers can tie a whole house installation in seamlessly.
As well as looking great, all our door handles are designed to work perfectly, and for a long time. This is why we offer a minimum 10 year greenteQ mechanical and surface guarantee. Our Coastline stainless steel range is guaranteed for a market leading 25 years.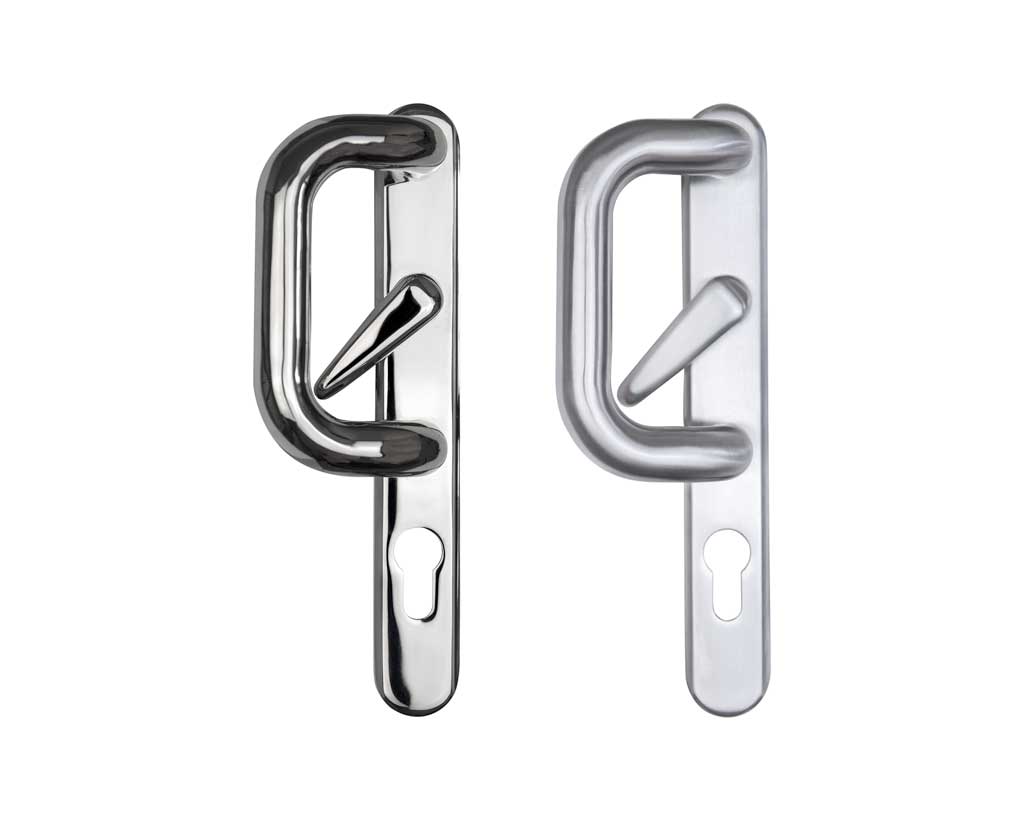 A brief overview of the range can be found below:
Bi-Fold Double Glazed Door Handles
We offer 3 styles of handle for the intermediate leaves on bi-fold double glazed doors, to give manufacturers a proper choice. The Aspire intermediate handle is a discreet, simple and modern option. It is constructed from stainless steel, offering high-performance values and structural rigidity. There are no less than 9 colours to choose from.
This handle projects just 16mm from the door face, to allow the leaves to fold back closely together. Aspire is the latest addition to the range and its simplicity is proving very popular. Fixing screws are fully concealed.
The SlimFold handle sits within a housing on the door face when not in use, making it very discreet. When using SlimFold, the manufacturer has the option of fitting a profile cylinder lock at the intermediate points for even greater security.
Finally, the CentreFold handle also sits within a housing when not in use. This handle features its own key lock and discreet key storage area. Both fixing screws are concealed when the handle is within its housing.
Aspire, SlimFold and CentreFold are all Q-secure PREMIUM rated products.
Inline Sliding Patio Door Handles
Double glazed inline sliding patio doors have always been popular in the UK.
We offer 2 styles of handles for these doors.
Our main handle is the attractive yet robust greenteQ Alpha Inline Sliding Patio Door P-Handle.
The handle provides a comfortable grip to pull the door along its track and a lever to lock and unlock the door. Alpha is available in 8 colours of the greenteQ Suite.
In 2020 we launched our Coastline P-Handle. This works in much the same way as its Alpha cousin, however, because it is made from stainless steel it comes with a 25 year surface guarantee.
Another benefit is that the operating leaver is slightly longer, giving more leverage when locking and unlocking the door.
Alpha and Coastline P-Handles are both Q-secure PREMIUM rated products.
greenteQ Aspire Lift/Slide Door Handles & Accessories
Lift/slide doors have been widely available on the continent for many years and are rapidly increasing in popularity in the UK.
When the user opens the door, they turn the handle from the vertical 'closed' position. This activates the concealed gearing which lifts the door off the track by a few mm. The door will then slide easily to the side until the user parks it in the desired position. The beauty of lift slide doors is that that they can be very big, offering clear glazed areas. This in turn makes them very heavy. This is why lift/slide door handles must be longer than normal, so the leverage makes the operating action very easy for anyone, regardless of their size or strength!
Our Aspire Lift/Slide handle is designed with very soft lines so that it not only looks great, but is very comfortable in the hand when in use. It is available in 9 colours of the greenteQ Suite, so will match the furniture on any windows or other doors on the installation.
The Aspire Lift/Slide handle range is Q-secure PREMIUM rated.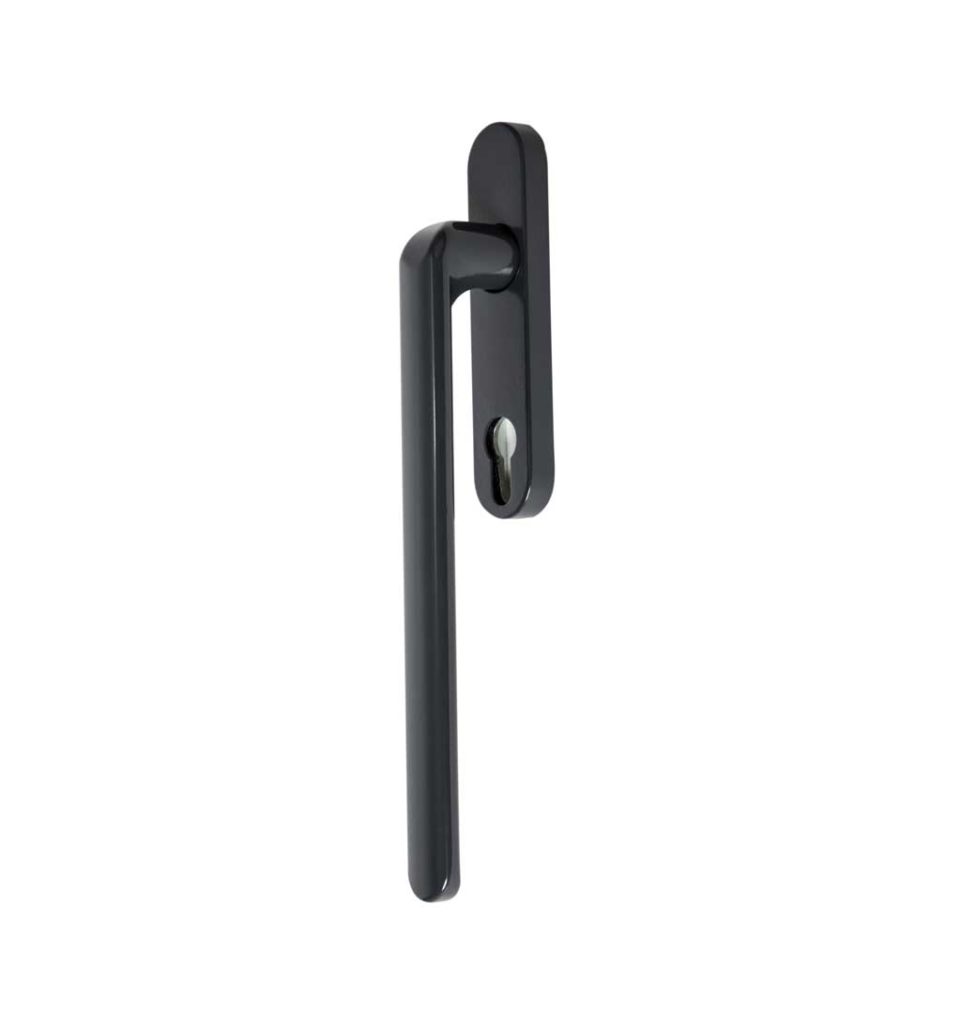 The Q-secure Security Guarantee
The handles above are approved for use on Q-secure windows. As well as our own greenteQ products, we also work with Yale, AGB, Roto, Maco and Securistyle.
The Q-secure guarantee will pay out up to £8000 (Q-secure PREMIUM) if a break in is achieved due to a failure of our approved hardware.
Q-secure is a MULTI-BRAND guarantee, where we offer our warranty across a variety of different brands. This is what makes us unique here at VBH, where we don't tie manufacturers down to a single hardware manufacturer. This allows them to make a better finished product and ensures that everything on the door is guaranteed. No nasty surprises in store!
Our multi-brand Q-secure guarantee is an exceptional assurance to keep homeowners protected. We have the utmost confidence in our products, which is why we can offer this unrivalled warranty. All our hardware is exhaustively tested to reach or exceed the high standards of BSI.
Get in touch with us today with any further questions. Just leave your question on our contact form, and we'll get back to you as soon as we can.
Categories: Homeowner