Outward Opening Window Handles
We offer a wide selection of outward opening window handles for Q-secure casement windows. They come in a wide range of colours to perfectly suit each window style. We have contemporary styles and also Monkey Tails for traditional looking heritage windows.
The Q-secure guarantee will pay out up to £8000 (Q-secure PREMIUM) if a break in is achieved due to a failure of our approved hardware.
Our uPVC outward opening window handles are part of our greenteQ furniture range. We also offer selected handles from our partner, Yale. All Q-secure approved handles offer unrivalled performance, with ease of operation and enhanced security, and are designed to stand the test of time.
Our window handles have 7mm square spindle drives, making them compatible with all espagnolettes and shootbolts currently in use, including those approved by Q-secure.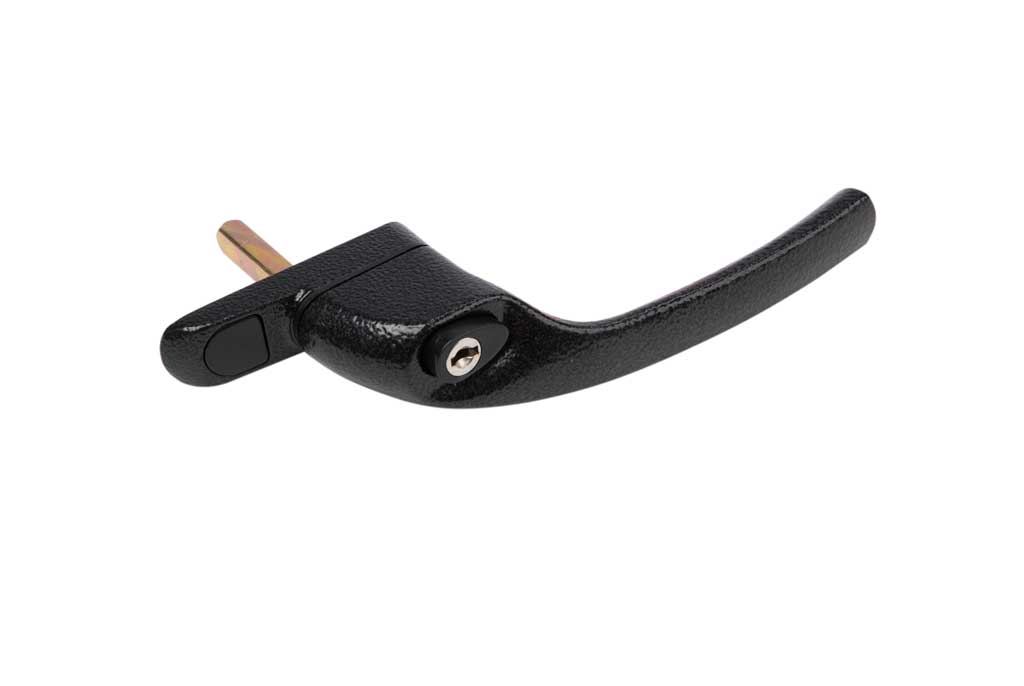 greenteQ Alpha
We offer a top-quality outward opening handle in the form of our own greenteQ Alpha. This is perfect for outward opening PVCu, timber or aluminium windows that are operated by a spindle-driven lock.
Alpha is available in inline (straight) or offset versions. They feature 'push to open' cylinders to give an auto-latch operation, with a key locking facility. This combination provides both safety and security.
Alpha is a timeless design, and is fitted to thousands of windows each week. Its sleek, contemporary styling enhances the look of any home. Alpha is supplied in 9 attractive finishes of the greenteQ Suite of colour and styled matched window, door and patio door furniture. The Suite enables installers to seamlessly tie a whole house installation together.
greenteQ Monkey Tail
This is a modern outward opening handle, designed to look old! It is ideal for the heritage flush windows that are gaining in popularity.
Unlike some monkey tail handles available to today, the Monkey Tail from greenteQ has been expertly designed as an espagnolette handle, rather than modified from an existing casement fastener. Therefore, you won't find any unsightly machining marks where the backplate has been reduced in width, and you get a proper key locking cylinder for security.
greenteQ Monkey Tail handles and their associated peg stays are available in traditional textured antique black, which works with any heritage window colour.
Yale Virage Espagnolette Window Handles
We are proud to offer Yale's premium quality outward opening window handle. The Virage handle offers exceptional performance, along with a contemporary appearance. The handles are available in inline and offset versions, with a push to open key locking facility.
The Yale outward opening window handle is included in our comprehensive Q-secure guarantee. Q-secure is the only MULTI-BRAND security guarantee of its kind. .
Virage handles comply with the latest BBA regulations. They provide fantastic security, durability and offer high-performance values overall. The sleek design is matched with a comfortable feel, longevity and premier security.
The handles shown here are part of our MULTI-BRAND guarantee, where we offer our warranty across a variety of different brands. This is what makes us unique here at VBH, where we don't tie you down to a single hardware manufacturer.
Our multi-brand Q-secure guarantee is an exceptional assurance to keep homeowners protected. We have the utmost confidence in our products, which is why we can offer this unrivalled warranty. All our hardware is exhaustively tested to reach or exceed the high standards of BSI.
Outward Opening Window Handle Guarantee
All Q-secure handles are PREMIUM rated.
Here at Q-secure, we offer a wide range of greenteQ's fantastic hardware. If you are a trade customer looking to purchase our fantastic handles along with our guarantee, then we want to hear from you. You can use our find a manufacturer tool today.
Our multi-brand Q-secure guarantee is an exceptional assurance to keep homeowners protected. We have the utmost confidence in our products, why is why we offer this fantastic guarantee. All our hardware is exhaustively tested to reach the high standards of BSI.
Get in touch with us today to find out more. You can contact us today by filling out our enquiry form or give our office a call on 01634 263 300. We look forward to hearing from you.
Categories: Trade